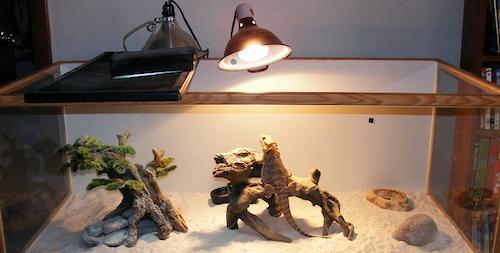 Bearded dragon basking light, Bearded dragon owners know very well how important it is to create the right environment in their terrarium. One of the key components of creating a comfortable, healthy habitat for a bearded dragon is providing the proper basking light.
Understand Your Bearded Dragon's Lighting Needs
The natural environment for a bearded dragon has bright sunshine and hot temperatures. In order to mimic their wild environment and provide them with an appropriate habitat, you'll need to provide your bearded dragon with both full-spectrum daylight bulbs as well as special heat lamps.
The full-spectrum bulbs will give your beardie the 10-12 hours of daylight that they need each day in order to regulate their body processes.
The heat lamps will provide hotspots where they can go to warm themselves up whenever they feel chilly.
A good rule of thumb is to provide one hotspot that's between 95 and 105 degrees Fahrenheit (35 and 40 degrees Celsius) in order to balance out their day/night cycle.
Choose the Best Basking Light

When it comes time to choosing the best basking light, there are several factors you should consider: wattage level, size, type of bulb and whether or not you should use a reflector dome.
Generally speaking, it's recommended that you choose an indirect light source such as an LED floodlight rather than an incandescent bulb due to its energy efficiency and long lifespan.
Selecting a bulb with lower wattage means that it won't generate too much artificial heat – usually 30-40 watts is more than enough for smaller tanks or enclosures; those larger tanks might need a 100W bulb or even higher depending on the size of your terrarium.
Additionally, adding a reflector dome can assist in directing light downwards into your terrarium rather than dispersing it around all sides for maximum coverage.
Install Your Basking Light Properly
It's essential that you install your basking light properly so that it doesn't become overheated or burn out too quickly due to inadequate insulation.
Make sure to leave at least 8 inches between your basking light and your protective mesh so that heat doesn't build up within the mesh itself – this distance could be further if the mesh covers most of one side of the enclosure.
You'll also want to make sure your bulb isn't mounted too close from obstructions within the tank like wood shelves or plastic tubes as this could cause uneven heating across different parts of the enclosure which could be hazardous for your beardie over time if left untreated.
Finally, check on all wires periodically against wear & tear from Reptile Climbing activities within your terrarium-replace any wiring which looks frayed or has started showing signs rusting or aging quickly before an accident happens inside your enclosure!
Overall, selecting an appropriate basking light helps ensure a happy, healthy home environment for your reptilian friend while also giving them adequate sunlight & warmth throughout their natural day/night cycle – which will ultimately help them thrive longterm!
Check the Temperature Regularly
After installing your basking light make sure you check it regularly with a thermometer so that you know its providing adequate warmth for your pet's habitat.
You should use two thermometers – one near their basking spot and one near their cool side of the enclosure – so that you can monitor both ends at once.
Reptiles like warm bodied animals require more consistent temperatures than mammals so monitoring often will help ensure they stay within an optimal range (around 95°F).Give Your Bearded Dragon
Places to Climb
You also want make sure they have places to climb when they get too hot by providing rocks or logs near their basking area so they can easily move into cooler areas when needed.
It's important to note not all rocks are suitable because some tend to hold onto too much heat which can burn them if sits too close. Make sure whatever material you choose has been specifically designed for this purpose!