Do Bearded Dragons Need Light At Night? | Bearded Dragon Tank
If their beloved creatures require light at night, new bearded dragon owners are especially curious. Perhaps since they are nocturnal creatures, bearded dragons require light at night to move about with vigor?
It is crucial to take into account the bearded dragons' native habitat, which is the vast, open Australian desert, when analyzing their illumination requirements. This region of the planet receives sunlight for the most of the day, frequently for at least 12 to 14 hours.
Bearded dragons, by their natural, evolutionary design, expect identical lighting conditions, even when maintained in a captivity, cozy setting. Therefore, it would be crucial that you give your beardie enough light during the day.
You will need to use artificial light to supplement the natural light that is most likely insufficiently reaching your beardie's habitat.
But at night, it's a very other scenario, because bearded dragons really need their beauty sleep. They will be unable to sleep effectively if there is no darkness. Once more, consider their natural environment, which is a dark desert or forest.
In the end, the lighting in the captivity where you have kept your beardie must resemble that of its natural habitat, which means that it must also be dark at night.
Basking Light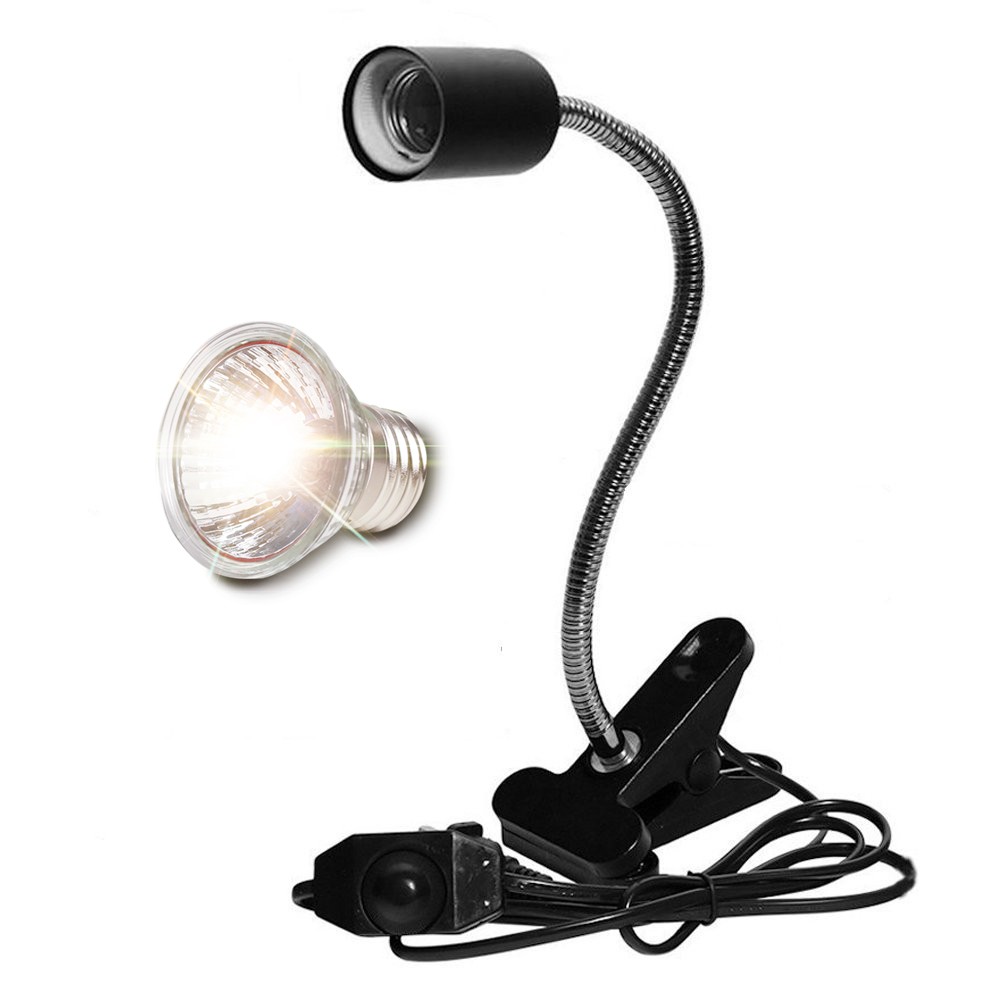 A light known as basking light is the best kind to have within your bearded dragon's habitat. This type of light turns off at night when it isn't needed, but gives the ideal quantity of lighting during the day when it is.
As a proud owner of a bearded dragon, particularly if you are new to the game, you should pick a light that smoothly transitions through these lighting cycles. In essence, we would be examining:
The light would be on for roughly 12 to 14 hours each day, and
It would be off for another 12 hours or so.
Even though it might surprise you, many pet stores don't have the proper lighting.
As we've seen, a straightforward bright white light source does an excellent job of delivering the proper kind of lighting that your bearded dragon needs during the day.
The majority of regular light bulbs work to provide this illumination. Yes, you might need to adjust the wattage to get the ideal temperature gradient (or find a bulb with the desired wattage).
After that is finished, you can make sure that your beardie is adequately lit during the day and can give total darkness for your bearded dragon at night.
Additionally, keep in mind that this light will give your bearded dragon the necessary heat during the day.
We are aware that this can be very challenging, especially for newcomers. For this reason, we have put together a comprehensive guide with product suggestions on how to set up the ideal lighting for bearded dragons. The beardie lighting manual is available here.
The fact that bearded dragons don't actually require much heat at night is related to the topics we have covered previously. Keep in mind that the woodlands in its native Australia tend to get pretty cool at night as well as being quite warm during the day.
Because light provides a source of heat during the night, bearded dragons can survive without it in their native habitat.
If it is extremely cold in and around its habitat, this rule will only occasionally be broken. An illustration would be housing the enclosure in a basement, which is normally cold. Or perhaps you are physically situated in a very cold area.
Or it could simply be winter, when it is quite chilly everywhere.
The likelihood that your bearded dragon will need heat at night, barring any of the circumstances we have mentioned above, makes any requirement for lighting all the more unnecessary.
Remember that bearded dragons are coldblooded animals as well. They naturally become warmer as night goes on and day comes. A cool climate (but not too cold) will do just well for them, whereas excessive heat at night will simply make them uncomfortable.
In terms of temperature details, we have observed that:
Bearded dragons thrive in an environment that is 95°F or 35°C throughout the day.
They would be fine if the temperature was above 18°C or 65°F at night.
Simply read our article on the best heat sources for bearded dragons if you need assistance setting up and locating the ideal heat source for bearded dragons at night. It displays the best heat sources for basking as well as the ones you'll need if your reptile room gets too chilly at night.
The Circadian Rhythm Connection
This entire cycle is ruined by nightlight, especially if it is extremely strong and intrusive. Keep in mind that it's not simply about sleeping. Another important element of circadian rhythms is the hormone release.
Stress and imbalance are brought on when hormones are not released at the proper times or at all.
Of course, this will have a significant impact on your pet's general wellbeing.
It is advised that you keep your pet in a dark environment at night for these and other reasons, as doing so enables it to maintain its circadian rhythm, which in turn ensures the best hormonal release.
Conclusion
As stated before in this article, bearded dragons don't require light at night. They merely end up having their sleep disturbed, which causes various problems like inappropriate hormonal release and others.
A Ceramic Heat Emitter, which generates heat without producing light, might be an appropriate solution if the environment around your bearded dragon is really very cold—below the temperatures we mentioned.