Bearded Dragon Cost: Everything You Need To Know
Every prospective owner needs to go through the process of calculating the expense of having a bearded dragon. Even if these creatures aren't particularly expensive, you want to be aware of the costs.
With price information for all of the materials you'll need, this guide will help you estimate all of the regular bearded dragon prices to be mindful of.
Let's get going.
How Much Does A Bearded Dragon Cost?
Depending on how old it is, a bearded dragon might cost anywhere from $30 to $100. That, however, simply reflects the cost of the beardie.
You're looking at an extra $300 to $600 when you factor in the price of their enclosure, maintenance materials, and an initial visit to the veterinarian. This raises the typical initial expenditures for buying a bearded dragon to $300 to $700.
Where You Buy Them Will Impact The Price
Bearded dragons are generally affordable to purchase, however the cost will vary depending on a variety of circumstances. Where you purchase them is one of the biggest!
A neighborhood pet shop is typically a regular source for new reptile aficionados. Due to their high level of popularity, most stores have access to bearded dragons. Both large chains and mom-and-pop stores carry them.
You might observe some price variations dependent on the age of the reptile even in a pet store setting. The cost of younger juvenile bearded dragons ranges from $30 to $60. The price of grown lizards, however, will be closer to $100.
Pet stores are convenient, but they aren't always the greatest option.
People with some experience usually turn to devoted breeders. Breeders not only provide a higher standard of living for bearded dragons, but they also charge less.
Breeders are often 10 to 20 percent less expensive than pet stores. Additionally, they can have special color variants available.
Attending a reptile show is an additional choice! These occasions take place everywhere in the world. They bring a ton of breeders and enthusiasts together in one location, making it a terrific way to meet local breeders.
Reptile exhibitions sell bearded dragons for roughly the same price as buying them directly from a breeder. Your choices make a great difference here, though! With so many breeders in the area, finding uncommon and exotic color morphs is simple.
Expert Advice: Be prepared to spend a lot of money if you want a beardie with a unique appearance. The price of a rare bearded dragon might exceed $1,200!
You can also locate bearded dragons for adoption if you're on a tight budget. Beardies that previous owners gave up for various reasons are collected by adoption and rescue organizations. The main goal of rescue organizations is to assist the reptile in finding its "forever home."
Prices are hence relatively low. You'll typically simply be required to pay a little adoption fee.
Private vendors are the last group. On social media and other marketplaces, you can get some fantastic offers. However, proceed with caution if you choose this path. You never know the lizard's upbringing or the type of environment it inhabits. Before making a decision, get the lizard examined by a veterinarian.
The Cost Of Required Supplies
Getting your bearded dragon is just one aspect of the process. You must set up your beardie's new enclosure before bringing it home.
The majority of your initial expenses will be incurred here. The major things you'll need to buy are listed below.
Enclosure
Probably the most expensive single item will be the enclosure. Bearded dragons require a large habitat with lots of room to spread out and feel at home. Don't be cheap here!
Expert Advice: Investing in an appropriate enclosure up front will save you money in the long run because renovations will cost more afterwards.
There are many different enclosure choices available. It will cost between $75 and $150 to build a basic reptile aquarium. But a premium vivarium-style enclosure will set you back $300 or more!
Reptile Glass Terrarium by REPTI ZOO, Double Hinge Door, with Screen Ventilation
Measurements: 36″ x 18″ x 18″
Ventilation and uvb and infrared penetration are made possible by the tough screen top.
Front doors have separate openings for ease of feeding
simple five-minute setup procedure
You should also spend money on a screen lid that fits snugly. You'll have to pay an extra $30 or so for this.
There is no right or wrong decision in this situation as long as the cage is the proper size. Choose a habitat that fits your needs and budget.
Of course, purchasing used items will always result in cost savings. However, be sure to thoroughly sterilize the enclosure before putting it in place.
Habitat Decorations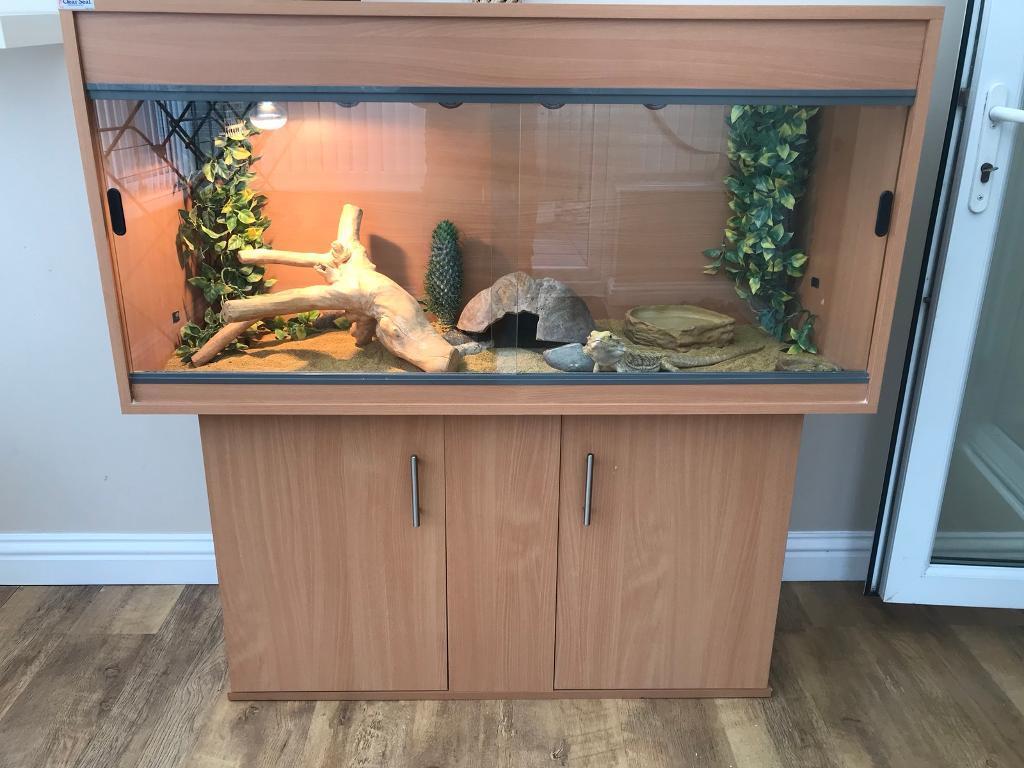 You must next purchase furniture for your beardie! Your lizard will have a higher quality of life and live longer with the proper habitat layout.
There is a lot of flexibility in this. You can choose to go either elaborate or simple!
Get a food bowl, a water bowl, a few hide boxes, some toys, and a few resting spots as the necessities. A hammock, a climbing branch, and a sunbathing area are appropriate relaxation aids.
Simple furniture pieces like those can increase the comfort of your bearded dragon. Undoubtedly, you can obtain more! If your enclosure is bigger, you can decorate it with artificial plants, caves, and a variety of other natural elements.
Everything else is up to personal preference as long as you cover all the necessary ground for your lizard. The typical price range for furnishings is between $30 and $80.