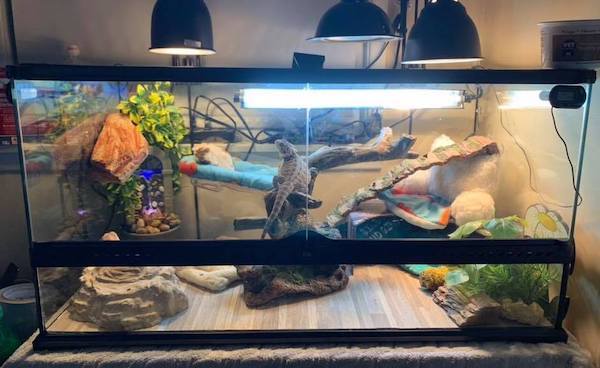 How to make Bearded Dragon setup for beginners? Bearded dragons are a popular pet reptile, and as such there are certain steps that should be taken in order to ensure you provide the healthiest and safest environment for them.
Setting up a bearded dragon habitat might seem intimidating, but it is relatively simple if you know what needs to be done. To help out beginner beardie owners, here's a guide to setting up your very own bearded dragon setup:
Choose the Right Type of Tank for Bearded Dragon setup for beginners
The size and type of tank that you choose for your bearded dragon will depend on its age and size – young dragons should have at least 20 gallons of space while adult dragons need 40 or more gallons.
When it comes to glass tanks versus plastic ones, glass tends to keep humidity levels better so splurge for one if possible.
Create an Ideal Temperature Range
Your bearded dragon should feel comfortable in its new home which means creating the ideal temperature range within their enclosure.
The required temperatures can range significantly depending on the species of bearded dragon however most like temperatures between 70-85°F during the day with heat lamps helping create basking spots around 95°F – appropriate temperatures are especially important if you plan on raising multiple older bearded dragons together.
Set up Appropriate Lighting
Lighting is essential for your pet beardie's health as they tend to be diurnal creatures meaning they're active during daylight hours thus need appropriate lighting sources.
This includes basking bulbs specialized UVA/UVB lights as well as night lights that allow your pet to properly digest food without disruption from strong lights since these can actually stress out your beardie.
Provide Proper Hiding Spots
Bearded dragons have pretty decent eyesight which means they prefer hiding spots with plenty of coverage from foliage or one that is dark enough so they won't feel exposed when resting inside it – another great item for providing interest is rocks/logs/dishes as this allows them more places to seek refuge when needed.
Not only do these provide added interest but gives them access to different parts of their enclosure where different temperatures exist when needed throughout the day.
Include Lots of Branches & Places to Climb
Bearded dragons love having ways to explore their surroundings via climbing or safely sitting at the top / middle branches in their tanks – this helps muscle development and encourages natural behaviors like reaching out towards their food sources or guarding their territory if there are other pets within close proximity.
Adding appropriate items like special reptile safe branches & vines also adds character & texture which is beneficial both aesthetically and functionally as some reptiles appreciate having rough surfaces available for shedding needs too!
Provide Heat and Light
Since bearded dragons are cold-blooded creatures they rely on external sources of heat and light in order to regulate their body temperatures.
A 100 watt bulb can provide enough light during the day, but you may also want to add another cooler white light in order to allow your beardie to rest during nighttime hours. A basking spot should also be placed away from any potential drafts and no more than 12 inches above where the beardie usually basks.
Keeping this temperature between 95°F and 110°F is ideal for when they digest their food too . To measure temperatures accurately invest in an infrared thermometer too
Create The Perfect Environment
To create the perfect living habitat for your pet start by filling up ¾ of the floor with some type substrate or bedding option such as play sand or coconut husk chips (which won't cause impaction issues).
Then decorate with some live plants both for pets interaction and environmental benefits like helping maintain humidity levels along with areas for hiding caves since these reptiles are quite shy by nature.
To help keep humidity levels between 30 – 50%, misting once daily is recommended; having two water dishes one larger one shallow enough to soak in while drinking and a smaller one they can access easily works well too.
Lastly don't forget to place branches available as these provide enrichment opportunities while allowing them hiding places within their tank environment as they would in the wild beach deserts they come from natively speaking .